This is dantzaz
Dantzaz is production
During its two decades of history, Dantzaz has produced more than sixty pieces that it has taken to stages and theatres all over Europe.
More than 150 performers (of some twenty nationalities) and 60 choreographers have traced this extensive artistic journey through which the imagination, passion and talent of many creators have passed, among them the Israeli Itzik Galili, the French Thierry Malandain, the Australian Janis Claxton, the Dutch choreographer Wubkje Kuindersma, the Polish Jacek Przybylowicz, the Slovak Lukas Timulak or the Italians Daniele Ninarello and Paolo Mohovich. Their works, together with those signed for Dantzaz by creators linked to our territories such as Jone San Martin, Josu Mujika, Hilde Koch or Judith Argomániz, make up a choral and multifaceted puzzle that has given birth to contemporary dance programmes as heterogeneous as 'BAT', 'Growing young', 'Áureo', 'Arte-an', 'Flash', 'Barrock', 'Txoriak' or 'Harri, Orri, Ar'.
Dantzaz's productions are born from the invitations that the company periodically extends to international and local choreographers and choreographers to create, in residence, together with members of the company. These are often choreographers who do not work specifically for any particular group and whose proposals constitute, in some way, a heterogeneous sample of the most current choreographic trends, aesthetics or languages. Subsequently, Dantzaz selects some of these pieces to create dance programmes that audiences can enjoy with very different sensibilities.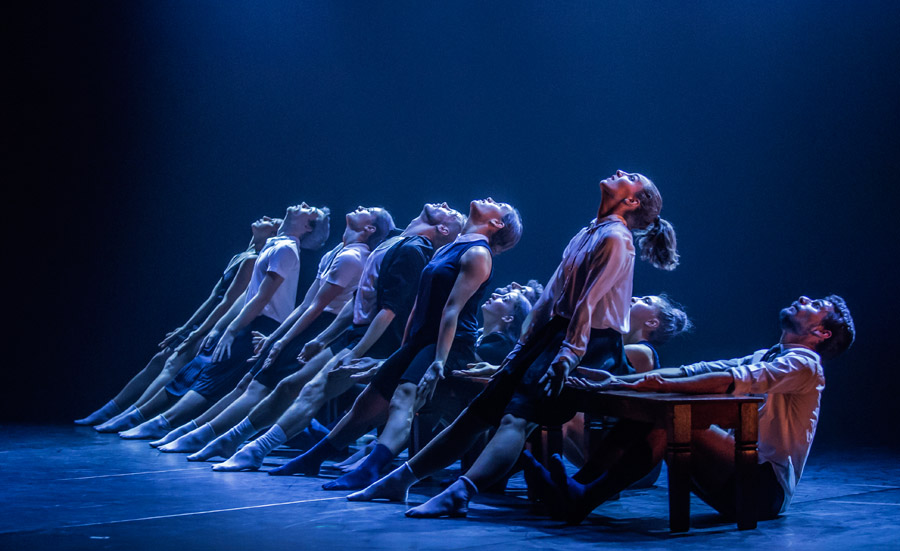 DANTZAZ takes contemporary dance with an international stamp and in large format (with creations that bring together between 5 and 12 performers) to venues of a very different nature.
The company's repertoire combines productions for exhibition in theatres and auditoriums and creations specifically designed for performance in non-conventional spaces. They all have the same DNA in common; they were conceived to be appreciated by very different audiences and can be programmed in festivals specialised in contemporary dance and new choreographic languages, but also in small municipalities that want to introduce their audiences to modern dance.
'The Happy enslaved people'
Choreography: Martin Harriague. Music: J. C. de Arriaga.
Ten frenetic minutes, full of energy and movement, offer an ironic look at today's society. The Basque-French creator Martin Harriague created this piece inspired by the overture to the first opera by the composer Juan Crisóstomo de Arriaga. He did so in collaboration with the CCN Malandain-Ballet Biarritz and 35 musicians from the Euskal Herria Youth Orchestra (E.G.O.). The result is a work with a colourful and complicit aesthetic, frenetic in its rhythm and loaded with subtle doses of humour and irony that asks the spectator: we are slaves of a frantic world, but are we happy?
'Thirty'
Choreography: Sade Mamedova. Original music: Mateo Lugo.
Creation is full of poetry and delicacy in a fifteen-minute choreography that combines emotion and abstraction. The Russian choreographer Sade Mamedova approaches the world of migration and identity by developing a dynamic and rich choreographic language full of nuances. This work is co-produced with the Hannover Choreography Competition (Germany).
'Walls'
Choreography: Martin Harriague. Music: J. S. Bach, G. Verdi, Yemen Blues, José Alfredo Jiménez and Pietro Mascagni.
Once again, the overflowing talent of Harriague, this time in a 35-minute piece, is powerful and resounding. A reflection on the world and barriers, on concrete and barbed wire. A show based on Harriague's stay in Israel, where he worked for five years and experienced first-hand how the world closes itself off by erecting walls. This production was produced within the framework of the Atalak network.
---
QUO
Is there a place – a place – for dance? How to find it in a world where virtuality threatens to fragment this rituality or ceremony of the body, movement at every moment…? QUO', the new programme of Dantzaz (premiered at DFeria 2022), invites us to imagine this path and does so by using the gazes that envelop the works of the choreographers Gil Harush and Hilde Koch.
'Salt'
Choreography: Gil Harush. Music: Paul Simon and Georg Friedrich Händel
'Salt' is the title of Gil Harush's first choreography for Dantzaz. His work portrays these conflicts between tradition and modernity, using life in a small fishing village as inspiration, where the rules imposed by globalisation and markets prevent those traditional practices that linked the town to the trades of the sea from surviving as they have done, century after century, for generations.
'F.O.M.O.'
Choreography: Gil Harush. Sound environment: Gil Harush
Inspired by the acronym F.O.M.O. (Fear of Missing Out), Harush's second creation for Dantzaz delves into those psychological scars or wounds that hyperconnectivity leaves on each of us; traces of "that pervasive apprehension that others might be enjoying rewarding experiences while we are away".
'Quorum'
Choreography: Hilde Koch. Music: Paula Olaz
'Quorum' is a piece by Hilde Koch that draws on the contributions of composer Paula Olaz, sustainable fashion designer Tytti Thusberg and lighting designer Alaine Arzoz. The joint work of these four women converges in a piece in which Koch -a close collaborator of William Forsythe or Nacho Duato- shares the work of choreographic writing with the performers of Dantzaz, thanks to the support of the Euroregional Network ATALAK.
---
BASOTIK ITSASORA 2.0
Dance and cinema to «feed hope»
Dantzaz proposes a new artistic program that combines, in the same session, an audiovisual projection and a choreographic show. Hypnotic, moving, tender…
..…is the joint proposal that makes up BASOTIK ITSASORA 2.0, a hybrid format made up of the screening of a 30-minute excerpt from the documentary 'Basotik itsasora' ('From the forest to the sea'), signed by Beñat Gereka, followed —in the same scenic space—of the performance of the play 'Basoa', by Josu Mujika.
On their seats, viewers can watch a 30-minute excerpt from 'Basotik Itsasora', a documentary film signed by Beñat Gereka and which portrays, from a perspective that crosses the borders between past and present, human migrations and the drama of refugees. His gaze falls on Gurs, the concentration camp located near Pau where the French Third Republic built, in 1939, a camp to house the thousands of displaced people from the Spanish postwar period. That place would become, after the Nazi invasion, a concentration camp. After the Second World War, in 1946, the French state erased its footprint and planted a forest on the site. Over that forest and the traces of that history —and the fear of repeating it—, Beñat unfolds a poetic journey towards the sea and towards those who cast upon it the dangerous hope of seeking a better future.
After that preamble, ten performers occupy the stage space to stage 'Basoa', a piece choreographed by Josu Mujika based on musical compositions by Iñaki Salvador. Those voices, those of Gurs and the refugees, are the starting point of a choral work articulated in eight scenic frames where emotion, physicality, tenderness and memory converge. «A dance, that of the company, very physical, well defined; with a lot of ground, but prevailing the verticality of the one who falls, yes, but gets up; and, always beautiful, with a point of optimism in the cabaret step, in memory of those cultural booths that the Gurs field had: culture, in all its aspects, that feeds hope and clings to life, "he writes Teobaldos (News from Navarra).
If cinema has made it possible to capture stories, episodes or stories that have marked the lives of generations around the world, dance is capable of taking those moments to a universal place that only requires the clean gaze of the observer. Both languages ​​or poetics now face each other in a project with which Dantzaz —and that immense family that surrounds the company— explores new forms and discourses so that art, memory and reflection walk hand in hand.
---
Basoa
«The forest that hides and conceals. A place is full of magic and fear. The forest wanted to hide and make people forget a tragic historical moment. Refugee camp, concentration camp? Gurs; thousands of people crammed together, and many of them died. A very close place, both historically and geographically. The Mediterranean: the tragedy is still here and now. A showcase of thousands of refugees forced to flee their territory due to wars and disputes. Gurs: the bridge between the past and the present
».
Choreography: Josu Mujika. Music: Iñaki Salvador. Texts: Xabier Sukia
This dance production for non-conventional stage spaces is inspired by the refugees of yesterday and today and forms part of the 'Lariat' project (www.larart.eus). This initiative aims to make visible through art and culture the problems that affect people displaced from their countries of origin as a result of war, persecution or poverty. Basoa has a duration of 35 minutes and a simple technical production that makes it feasible to perform and adapt to different spaces.
---
Choreography: Gil Harush. Music: Assaf Amdursky and Shlomi Shaban
GESALA is part of a joint reflection by Gil Harush with film director Beñat Gereka on traditions and modernity in a project called "Itsasoak Pizten Gaitu" (the sea "lights us up"). The sea, the port, the land, the fire… elements form part of a 35-minute creation for the street that can be presented in all kinds of spaces, with no special technical needs.
---
Actions with and for audiences
Since its origins and in collaboration with theatres and other agents in the sector, such as academies, conservatories, creators and companies, Dantzaz has been working on designing actions to develop new audiences.
Pre-show actions:
Open trials
Workshops in academies and conservatories
Post-show actions:
Talks and meetings with spectators
Workshops in academies and conservatories
Particular activities: taking the public with the company:
Journey to the centre of the dance